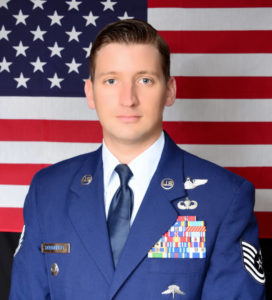 Technical Sergeant James Dougherty of the 106th Rescue Wing just turned 30 this year, yet he has been a pararescueman (PJ) for eight years and served overseas five times in Iraq, Afghanistan and the Horn of Africa.
His father, Chief Master Sergeant Dougherty, was a pararescueman for the 106th and served alongside his son for a little more than a year. "He was a part-time guardsman for his entire career. He had civilian jobs as well," said the younger Dougherty. "I always heard stories about what they were doing through my father and the extended family of the 106th."
James began his training as soon as he graduated from high school. One year later he enlisted and soon became a full-time pararescueman. "The pararescue pipeline is about two and a half years long," he explained. It is one of the longest special operations training courses in the world according to United States Air Force pararescue website. "We start at boot camp – basic training – at Lackland Air Force Base in San Antonio, Texas. From there we go to the pararescue indoctrination course, a ten-week selection course. It's ten weeks of calisthenics, swimming, running and water confidence."
"Water confidence is really drowning practice," he laughed. Each week the level of difficulty increases from a 25 meter breath-hold, under-water swim in the pool to 40 and then 50 meters. Each end-to-end swim must decrease in time from two minutes and 30 seconds to one minute and 15 seconds. "That's usually around the time everything starts going dark."
When the pararescue trainees take on snorkel training, it's more 007 than Caribbean holiday. "You have to share a snorkel with someone else underwater and an instructor tries to prevent you from breathing with the snorkel. It's two minutes underwater; sometimes you breathe and sometimes you don't."
The next training consisted of open and closed circuit scuba diving. "The Air Force created its own combat diving course," said James. "The equipment is public safety diving equipment. It's meant for working while under water not looking at coral and fish."
After mastering the principles of diving, James was sent to Airborne School at Ft. Benning, Georgia for basic paratrooper training. Military free fall parachutist school in San Diego, California was next. "Being in the guard, the allotted slots for each course aren't the same for active duty. On the guard side you bounce around to where there is an opening," he explained. Of the 120 pararescue hopefuls who started the selection, only 22 graduated. Then of those 22, James graduated, at the very end, with only six of them.
The Air Force Pararescue EMT course at Kirtland Air Force Base in New Mexico provided James with a working knowledge of emergency medical technical procedures. After completing the two-phase training, he was sent to Tucson, Arizona for hands-on medical training for six months. Upon completion of the course, he was awarded the National Registry of Emergency Medical Technicians-Paramedic certification.
The final phase of training, Air Force Pararescue Recovery Specialist Course, took place back at Kirtland Air Force Base. "They take all the training done at that point and put it all together – jump out of plane at a jump zone, navigate to the patient, stabilize and package for transport, move to a jump site and a helicopter, boat or car for pick up," he said. Completion of the final phase qualifies airmen as Pararescue Recovery Specialists for assignment to any Pararescue unit worldwide and they are presented with the maroon beret according to the United States Air Force Pararescue website.
James graduated in June of 2009. He came back to the 106th for ten months and then was sent to Iraq (Operation Iraqi Freedom/Operation New Dawn) for five months. "I flew with Navy medevac for two months and the second two and half months I provided personnel recovery capabilities for the theater," he said.
He returned home to continue training – ice climbing in Colorado, New Hampshire, the Gunks (Shawangunk Ridge); technical rope rescue; search and recovery dive training; back country skiing; and high surf training in Hawaii for a week to practice driving boats and jet skis in giant waves. The watercraft can be dropped out of the back of an aircraft followed by paratroopers who jump into the open ocean.
In the fall of 2011 he deployed to Afghanistan– Operation Enduring Freedom. "That was a really busy deployment in Helmand Province. We were providing TACEVAC. We would do a lot of the same stuff as medevac but more due to our advanced training," he explained. While Red Cross helicopters would have to wait for an armed escort, their helicopters and the pararescuemen were armed. "We would fly three to four missions per day doing those rescues. There was a lot of bad stuff, a lot of amputations – very traumatic injuries from pressure plate IEDs. Being with pararescuemen he had trained with through the years helped James deal with the intensity of the mission. "We worked together as a team to give the best treatment possible. Everyone around us having the same experiences helped us to cope. We did a lot of good work there – very advanced medical treatment for paramedic level providers."
In the fall of 2012 James was deployed to Afghanistan again – Operation Enduring Freedom. "Everything we did there was a little more significant. The year prior we picked people up for below the knee amputation. The following year I wouldn't consider that a severe injury. We would put on a tourniquet," he said. "This year there were more severe injuries like real bad blast injuries. Resources were a little further away. When something happened it was far more critical."
He was going on four years living out of a bag and that didn't stop until about three years ago. In the midst of his deployments and training, James married fellow 106th Staff Sergeant Lauryn Armusewicz. The Hampton Bays couple has two boys: James 3 ½ and Sean 1 ¼ according to their proud father.
Two more deployments followed the marriage, both to the Horn of Africa and both for 60 days, to provide personnel recovery capabilities.
While in Jackson Hole, Wyoming practicing rescuing people out of fast moving water, swift water rescue training, he got a call from the acting 103rd commander. He was told to have his guys dry their stuff out, pack their bags and meet up in Texas the next day. Hurricane Harvey's record rainfall and catastrophic flooding required immediate action. They flew to Texas and had to drive across the state to Fort Hood, which is where the rest of the 106th was deployed. The day after arriving, they went out at first light to survey the damage around the suburbs of Houston in HH-60 Pavehawk helicopters. "We had three helicopters flying with two pararescuemen on each one and flew around looking for people who were stranded in floodwater. On my helicopter we did 19 rescues the first day, all by hoist. The victims were on their roofs and hanging out of second story windows," he said.
They were flying over areas that were more heavily flooded looking for people. Sometimes they would get a call and sometimes they would find the victims by chance. "We saw a guy waving and pointing across the street. They were fine but they were trying to direct our attention to something else, an elderly woman in the second story of her home. We had to hoist down because there were trees and power lines all over. We hoisted down to an SUV because the floodwater was moving swiftly. Once there we were able to see there was someone in the second story of the house. James told his partner to swim over and threw him a rope to hold onto. He climbed on top of the roof, broke the window and recovered the elderly woman. "It's really tough because you don't always have the answers and know that person's situation. We reassure them that we are going to do everything in their best interest," he explained.
The rest of the week he was with fellow pararescueman Chad Evans in zodiac boats driving around flooded suburban towns looking for people and pets. They were getting information from the Texas Task Force 1, an urban search and rescue task force. "They were getting reports and we packed up, loaded trucks and went out searching for two to three days," he said. The 106th rescue wing rescued more than 500 people trapped in floodwaters in the aftermath of Hurricane Harvey.
James is the Junior Vice Commander (third in command) at VFW Post 5350 in Westhampton Beach.