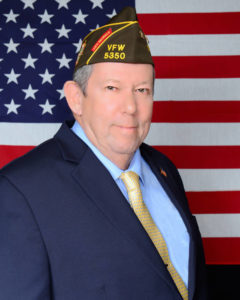 Tom Quinn enlisted in the Air National Guard, Westhampton Beach, in 1979. He was close to a decade out of high school and had been pursuing a degree in physics at Stony Brook University before leaving due to the ideology prevalent at the school.
"I was in the doldrums and ended up working different jobs after I left Stony Brook," he said. "At one point, I was working with a couple friends, and Greg Scott, a mechanic at the base, who was working on C130s. We got talking and he sold me on the idea of joining the unit out here. I wanted some connection with the military."
Despite his brother's, a former Air Force B52 mechanic, and cousin's, a former Army infantryman, exhortations to stay clear of the military or they would "break both his legs" due to the anti-war and anti-establishment sentiment at the time, Tom was motivated by a military lineage that began with both grandfathers.
He worked part-time on the weekends and participated in active duty training throughout the year. "Ever since I was a kid, I liked aircraft," he said. "I scored very well on all the tests so I had a choice of career fields." He chose avionics and began learning about electronics on the aircraft. A full-time offer to work for the Air National Guard came in 1981.
It was unusual for aircraft mechanics to work more than one airframe, yet Tom worked on both the C130s and the H3 helicopters. As a member of the Air Rescue and Recovery Group (ARRG), he began traveling to stateside exercises at Air National Guard training sites and Air Force bases – Plattsburg, NY; Gulfport, MS; Alpena, MI; and Las Vegas, NV were a few.
The travel appealed to him and when an opportunity to work as a scanner on rescue missions was offered, he accepted. Sitting in front of the large window on an HC130, he would scan the water for a capsized boat or man overboard. There were formulas they used involving water and wind currents that helped to facilitate the rescues. "It's very scientific how they go about looking for someone in the water," he said. "We would fly a couple hundred feet above the water and employ the creeping leg or expanding rectangle." Once a target was located, they would launch the PJs from the aircraft and vector in a helicopter to pick up the men.
Afterward, Tom signed on to the aircraft maintenance program. He flew with the aircraft on training missions wherever they went in the country. "We would land at an Air Force base or another guard base," he explained. "Because we had the H130s, we usually would locate another 130 base to get parts if needed."
Tom was drawn to the National Guard as opposed to active duty primarily because he could choose to participate in a variety of work commitments. "When I enlisted we didn't have a full time fire department at the base. It was volunteer. I joined that and got to be a fireman while working the aircraft as an avionics guy and occasionally working as a scanner. In the winter when it snowed we could join up to plow," he said noting, "When I was a little kid I played with little trucks and little planes and when I grew up I played with big trucks and big planes.
"After the Space Shuttle, Challenger, disaster in 1986, NASA decided to create a rescue program for future flights. A lot of the units in the 106th were involved with developing this in conjunction with the Space Agency. My section, Avionics, was tasked with the installation and testing of the Personnel Locator System, PLS. We installed a unit called a transponder on the aircraft that was capable of tracking up to nine complimentary radios that were part of the Astronauts' survival gear. If they had to egress the shuttle in case of any emergency, these radios automatically turned on. The aircraft could then track each one, getting bearing and distance information for each unit, individually. Along with the initial installation, I was involved with the operational test and evaluation of the system. After the successful completion of this, I was then involved in the creating the technical orders for the installation, use and maintenance of the system. This system showed enough promise that it was adopted for aircrew and PJ rescue operations. Through our work it became a standard piece of equipment on Air Force and Air Guard aircraft. This work eventually led to my being detailed as the Avionics Quality Assurance Specialist," Tom explained.
"The scanning program was fading, the fire department was fading because they finally brought on a full time fire department so were being fazed out. It was perfect timing," he said. "I really put myself wholeheartedly into the avionics. It engrained me more into the rescue mission. I attended a lot of conferences."
In the late 1980s going into the 1990s, the C130s were scheduled for modifications to modernize their systems. Around the same time, they were changing from the H3 helicopters to the H60. There were conferences in Georgia, New Mexico and the Sikorsky facility in Connecticut. Aircrew members and the engineers that were involved in design and development of the aircraft provided their analysis. "Occasionally I got to give input from the maintenance point of view. Tech orders were also developed during conferences which are step-by-step instructions to perform a task on the aircraft," he said. "I was involved in the development of the tech orders and occasionally, the testing and evaluation of the new systems that were being installed on the C130s and H60 aircraft.  I found myself also involved in the installation and modification of new systems in the H60 upgrade program. Some of these modifications made our aircraft valuable to assist the DEA in some of their missions."
Going from day-to-day working on an aircraft to being part of the development of the aircraft. Using the sum total of all the knowledge he gained through the years was a rewarding experience.
When the upgrades had been completed, the next big challenge was passing an operational readiness inspection to obtain their C-rating (Combat rating). "Passing that inspection was the big focus and we passed with flying colors. We had achieved that in time for deployments that coincided with the Persian Gulf War. That started a lot of my overseas tours in combat zones," he said.
The first was Operation Southern Watch in Kuwait. "We had a big one come about when one of the other units had failed their Operational Readiness Inspection (ORI) and we had to cover their deployment at the last minute," he said. "We had to put together a whole deployment package for Kuwait in less than 48 hours. Usually they have 72 hours to put a package together." The Department of Defense was impressed with their efficiency since no unit had ever done that before, especially a guard unit.
"Along with everything else for these deployments, I had been working with the Air Combat Command (ACC) and the Joint Service Rescue Center (JSRC) to obtain an important piece of mission operation equipment, SATCOM, for our aircraft. Prior to this time, we were 'borrowing' these radios from other commands. The meeting with the JSRC in Kuwait was a success and led to funding and further modifications that saw SATCOM installed on our C130 and H60 aircraft as standard equipment, enhancing our mission capability," he explained.
There was a unit deployed to Operation Northern Watch in Turkey that was reassigned to Kuwait to start the deployment for Tom and his unit. "We followed up right behind them with the package we put together. I got on the first rotation going to Kuwait to relieve the unit that was there from Turkey," he said. "We set up the deployment package for the rest of it. It was a 90 day rotation for that one." He was still doing avionics systems on the HC130s. "We were pulling what was called alert duty. We were on stand by for any combat contingency that came up. We assisted other aircraft and their maintenance during downtime when the HC130s and H60s didn't require maintenance."
While based in Kuwait, Tom would meet up with friends and take a military van into the city. He enjoyed meeting the Kuwaitis and learning about people from different cultures, especially in Bahrain which was a tourist mecca in the Arabian Gulf where a melting pot of Middle Eastern, Russian and Eastern European visitors mingled in the bazaar and bars.
Tom's fourth and last deployment to Operation Southern Watch in Kuwait took place in 1999. Then after 9/11 he was on his way to Afghanistan when a cardiac episode caused him to be taken off deployment status. "I was in my 50s at the time," he said.
He changed career fields and took over the maintenance training section at the base.     "It's a whole separate career field. We worked Maintenance Operation Flight (MOF)," he said explaining, "That was a non-deployment position so I didn't hold up anyone moving up to my spot. I did like the training slot because I got to utilize all the things I learned over the years. There was a lot more ancillary training. We were fighting with Air Force headquarters to work with us to develop the training programs in a way that was beneficial to everybody. It became difficult for traditional guardsmen who only were on base one weekend a month to complete all the ancillary training and still apply themselves to their career field." He worked the MOF training for close to five years before retiring at the age of 58 in 2010.
As a member of VFW Post 5350 since 2000, he helps fellow veterans navigate the VA system of benefits and assistance. Tom is also an inspector for the Board of Elections where he has been assisting voters at the Westhampton Beach Fire House for the past five years.