Women's History Month, March 2017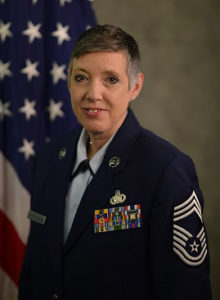 Sherri L. Huppert grew up in Shirley where she graduated from William Floyd High School in 1988. After graduation, in 1989, she was employed as a civilian federal technician, working Inventory Management, for the Air National Guard at Francis S. Gabreski Airport in Westhampton Beach.
Her future husband, Eugene Grassie, was a full-time federal employee in Inventory Management for the Air National Guard who encouraged her to join the military. Her father also worked for the Air National Guard at Gabreski as the maintenance unit training manager. In June 1992, she began her military career by enlisting in the New York Air National Guard.
After six weeks of basic military training at Lackland Air Force Base in San Antonio, Texas, she was assigned to the 106 Logistics Squadron at Gabreski. "Our daughter, Olivia, was almost three at the time I went through training. I knew going in that I would be assigned to the same career field and base," she explained. Unlike active duty, where members of the military can be sent anywhere in the world, enlisting with the Air National Guard enabled her to return to Gabreski.
In 1998, following her marriage at Immaculate Conception Roman Catholic Church, it was a family affair with her husband, father, and three in-laws all working on the base. Then in March 1999 the family of three moved to Westhampton and has remained to the present day.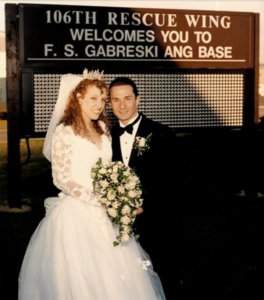 Sherri had also served in the community after their marriage at Immaculate Conception Roman Catholic Church as a Eucharistic Minister for five plus years, with strong influences within the church, as Father Patrick Murray had married the couple in the community.
Throughout the years, she has held over ten positions within the supply/logistics field, many at the supervisory level. In 2010, she was promoted to the rank of Chief Master Sergeant. Upon Chief Huppert-Grassie's promotion, she became the Squadron Superintendent and has been responsible for all facets in supporting the Wing for state and federal mission requirements.
Chief Huppert-Grassie was deployed on four occasions prior to her promotion. Her tours to Turkey in support of Operation NORTHERN WATCH 2000, Operation ENDURING FREEDOM 2001 in Kuwait, Operation IRAQI FREEDOM 2003, and Operation ENDURING FREEDOM 2009 in Afghanistan, were necessary to provide maintenance support for the aircraft in the deployed locations.
Chief Huppert-Grassie has received numerous awards and decorations including the Air Force Commendation Medal with four oak leaf clusters, Air Force Achievement Medal with two oak leaf clusters, Air Force Outstanding Unit Award with four oak leaf clusters, Coast Guard Unit Commendation with O device, Armed Forces Expeditionary Medal, Afghanistan Campaign Medal with campaign star, Iraqi Campaign Medal with campaign star, Humanitarian Service Medal, Air Force Expeditionary Service Ribbon with Gold Border and the Small Arms Expert Marksmanship Ribbon with bronze star.
On base, Chief Huppert-Grassie has supported the Family Readiness Group, through her volunteer work, for the past 18 years. She was one of only two women New York State recruiters for the VFW on the state level and she maintains active membership in VFW Post 5350, Westhampton Beach. Since joining in 2005, she held the Quarter Master position for four years and for the past two years she has served as Chaplain. "It was Arma Andon who really got me involved in the VFW and believed in me," said Chief Huppert-Grassie referring to the recently deceased Westhampton Beach icon. "I enjoy being in that room full of veterans, it is an honor and a privilege. Commander Hughes is bringing the post to a new age."
One of Chief Huppert-Grassie's most meaningful volunteer activities is the Annual "Soldier Box Night" event hosted by the Brownie/Junior Scout. The troop members earn their merits toward the project by packing boxes of much needed items that are shipped to airmen in the deployed locations. "We pack the cookie boxes and write letters to the members of the unit, the evening is so filled with excitement, and who doesn't love to color!" said the Chief.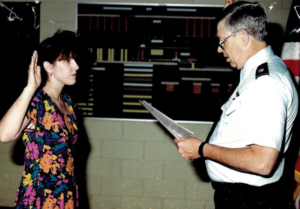 Since 1998, she has provided a service as New York Notary Public to all assigned service members to the Wing, mostly by word-of-mouth, and continues to maintain her Notary Public registration; this service is valuable to members who are continually working day-to-day operations and may not have the opportunity to have their documents notarized from an outside agency or service.
Today, the military is still a family affair for Chief Huppert-Grassie. Her husband, SMSgt Eugene Grassie, Jr., Material Management Flight Superintendent, works down the hall from her and their daughter works for the Department of Defense as an analyst. "Olivia earned her masters in Global Security Studies at John Hopkins through a post 9-11 GI Bill," she explains. Each time she deployed, education credits were earned that could be transferred to her dependent husband or daughter.
Joining the military was a career direction she never would have imagined during her early years. "I never thought I would be in the military and now I have the honor of developing and mentoring the next generation. Our squadron has 100 plus airmen assigned and I know every one of them. I'm very proud of who they are and who they will become."
Thank you, Chief Master Sergeant Sherri Huppert-Grassie, for your service to our country and community.
Please support our local VFW Post 5350
101 Old Riverhead Road, Westhampton Beach, NY 11978
Commander William Hughes • 631-653-9898