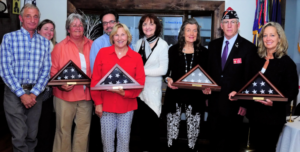 As part of its Hometown Heroes initiative, the Westhampton Free Library paid tribute to four veterans at a ceremony at VFW Post 5350 on May 25.
During the posthumous ceremony, the service and sacrifices of Arma "Ham" Andon, William "Bud" Kavan, Ben Larson and Frank Matthews were recognized. Their family members were presented with an American flag that was flown over the library during the month of May.

Pictured left to right are John Larson, Ben Larson's son; Danielle Waskiewicz, Westhampton Free Library director; Sally Kavan, William "Bud" Kavan's daughter; Jay Janowski, Westhampton Free Library head of reference; Holly Hubard, daughter of Ben Larson; Mary Anne Yutes, Westhampton Free Library trustee; William Hughes, VFW Post 5350 commander; and Sundy Schermeyer, granddaughter of Arma "Ham" Andon.
Photo courtesy of the Westhampton Free Library/photographer Michael Azzato of Selective Eye Photography