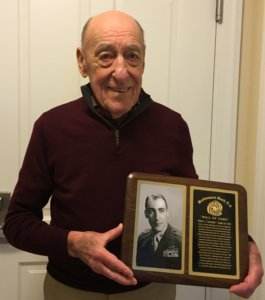 The Second World War began in 1939 when Adolf Hitler invaded Poland, although historians continue to debate the origins of the most widespread war in history. Over the six-year period, the Allied nations of Britain, the United States and the Union of Soviet Socialist Republics fought the Axis nations of Nazi Germany, Imperial Japan and Fascist Italy. More than 50 million lives were lost before the war ended in 1945 with the Allied defeat of Axis countries Germany and Japan.
Korea is known as the forgotten war. It began on June 25, 1950 when North Korea invaded South Korea. The American-led United Nations command (UNC) came to the aid of South Korea. China and the Soviet Union fought for the North to expand their interests beyond the 38th parallel line established at the end of the Second World War. Nearly five million people died, soldiers and civilians, in the "forgotten war" that ended when an armistice was signed on July 27, 1953.
Edwin "Ed" Cartoski grew up in Quiogue and graduated from Westhampton Beach High School in 1942.  At the age of 18, he received permission to graduate early so he could join the war effort. He enlisted in the Navy where he had extensive flight training in the Navy V-5 pilots training program.
After passing the physical and the aptitude tests, Mr. Cartoski received a telegram instructing him to report to Colgate University for civilian pilot training. "We were taught aeronautics, navigation, military terms, aircraft and ship recognition – the rocks and shoals of the Navy," he said. "We were just kids. We needed discipline. It was a very fast moving, accelerated pace of training because they needed the pilots."
After Colgate, where Mr. Cartoski and his fellow trainees flew Piper Cubs on skis out of Hamilton, New York for four months, he was sent to the University of North Carolina at Chapel Hill for a higher level of indoctrination and physical training. There he learned code, aeronautical terms, advanced identification of enemy aircraft and tactics.
E Base in St. Louis, Missouri was next for more flight training on the "Yellow Pearl," a N2S or N3N bi-wing.  "I soloed, did loops, acrobatics, instrument flying and night flying. It was the next step," said Mr. Cartoski.
The final stage of training took place in Pensacola Naval Air Station where he was commissioned as a 2nd Lt. Marine Pilot. Marine pilots were trained as infantry officers first and pilots second. They were intensely trained in every aspect of infantry life. The main purpose was to develop a strong bond in close air support.
While at the Marine Corp Air Station El Toro in California waiting for his orders, "a guy with a lot of gold braid" walked in asking for pilots who wanted a lot of flight time. Admiral "Bull" Halsey had unwittingly sailed the Third Fleet into the heart of a typhoon in the Philippine Sea on December 17, 1944. He lost two destroyers with all men on board – close to 800 men – and 100 aircraft. Planes were needed and fast. Mr. Cartoski volunteered for the flight time and found himself on a transport the next day. His mission was to fly F4U Corsairs, Hell Cats, TBMs and more straight off the factory lines from cities across the United States – Bridgeport, Bethpage, Mercer and Detroit – to California. There they were loaded on carriers and shipped to the war zone. "We tried to fly dawn to dusk to California in one day. We couldn't fly at night because we didn't have any navigational aids. Sometimes we would go down low to look at a water tower to see where we were," said Mr. Cartoski.
New orders came through assigning him to VMF513 and a mission to support the nationalist Chinese. Before they arrived in China, the mission was aborted and he was sent first to the Philippines and then Hawaii where his squadron supported the Bikini Bomb test. "We had F6F drones that flew into the cloud to read the radiation and collect other data. Our ship was a support ship. We retrieved a Hell Cat that was irradiated. It was isolated, but a lot of guys were in bad shape by the time we got back to Pearl Harbor. We didn't know much about radiation at the time," he explained.
He left the military in 1946 and enrolled at the University of Alabama through the GI Bill. His studies in the field of aeronautical engineering were not to last long. The Korean War started and he was recalled to active duty and served with the Marines in Korea where he provided air support for the first Marine division. "The Chinese and North Koreans surrounded us. There were ambushes. We returned to Japan and regrouped before going into Pusan. We were surrounded again; that was a bad one," he said tears forming at the corners of his eyes.
When he returned home, the Marine Corp sent him to Pensacola to be a flight trainer. He was reassigned to Marine Corp Base Camp Lejeune in North Carolina where he lived with his wife and daughter.
In 1955 he decided to leave active duty but remain in the Marine reserves and work for Grumman Aerospace where he could be closer to family. While in the reserves, he graduated from the Naval War College at the Marine Base at Quantico, Virginia.
After decades of service to his country, he retired from the Marine Corps in 1974 with the rank of Colonel.  Throughout his military career, he received many distinguished decorations and medals: The Distinguished Flying Cross with one Gold Star, The Air Medal with five Gold Stars, Presidential Unit Citation for service in Korea, Army Distinguished Citation for service in Korea, Organized Marine Corps Reserve Medal, American Campaign Medal, Victory Medal World War II, National Defense Service Medal, Korean Service Medal, United Nations Service Medal and Korean Presidential Unit Citation for service in Korea.
At Grumman he was a test pilot and flight-tested numerous military aircraft. He also flew the helicopter in "Flight Safety–Air Rescue." Mr. Cartoski retired from Grumman in 1983. Upon his retirement from Grumman, he received the Sikorsky Helicopter Rescue Award for skills and courage when participating in numerous lifesaving missions.
In 1944 Mr. Cartoski married Althea Densieski and they raised five children: Nadine, Bernadette, Ed Jr., Joe and Paul. Throughout his life, he has been involved in community service from his time as the president of United Parents of Mercy (High School) to holding leadership positions in the Riverhead Polish Independent Club and membership in VFW Post 5350 where he works to provide for veterans in need and scholarships to area high school students. In 2013 he was inducted into the Westhampton Beach UFSD Wall of Fame and now he is the Westhampton Free Library's Hometown Hero for February 2017.
Thank you, Mr. Cartoski, for your service to our country and community.
Please support our local VFW Post 5350: 101 Old Riverhead Road, Westhampton Beach, 631-653-9898