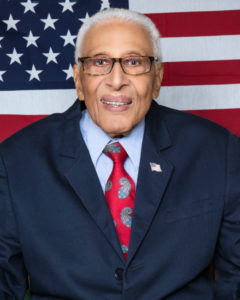 Let's be clear. When Creighton Berry was drafted out of Pratt Institute in his junior year, it was a different world.
It was 1943. There was a black army and there was a white army, and Mr. Berry eventually ended up in the black army. But first he had an adventure.
"I was drafted into the Army Air Corps and assigned directly to a combat engineer company at Fort Dix," Mr. Berry wrote in his memoir. Because of his artistic talent, the Army assigned him to this camouflage unit out at Mitchel Field on Long Island.
"The Army assumed I was a white student. I was the only black member of the unit," Mr. Berry said recently.
It was at Mitchel Field he was busted for the crime of walking around being black. He had been in the service only three weeks.
The Base commander spotted him on the exercise field and called out the dogs. "The base commander had me taken out of the unit at Mitchel at three in the morning," Mr. Berry said. "He was a prejudiced Southern colonel and had the MPs pick me up in the middle of the night."
He was a nineteen year old kid from the Bronx and he was headed south for the first time. They transferred him to an African-American unit at Langley Field, in Virginia. He was placed in an Army Air Corps Signal Corps battalion.
The base commander found out he was an artist and asked him to paint a mural.
'I did my research and took Polaroid pictures," Mr. Berry said. "And I painted the whole mural in sections illustrating the entire Signal Corps company's activities on the field of battle. It filled the entire top wall of the officer's club." He depicted the unit constructing telephone poles and stringing wire for communication while under fire, and in the center of the painting he put the colonel in charge.
'It was so successful," Mr. Berry said, 'The Colonel made me a Special Services specialist, with the classification number 442." On his discharge papers, it says he was an Entertainment Specialist 442. "That classification would follow me wherever I went in the Army Air Corps," Mr. Berry said.
"At Langley, we were in charge of morale, well-being and entertainment of the troops," Mr. Berry wrote. "The unit was made up of musicians and singers and clerks to run the enlisted men's service clubs."
One day in late 1943, they were able to get the heavyweight champion Joe Louis to box in an exhibition fight with Sugar Ray Robinson. All the military personnel in the area were clamoring to attend.
What a trip. Mr. Berry was able to meet Joe Louis personally. His baseball team in the Bronx called themselves "the Brown Bombers" in honor "of the one and only Joe Louis." And now here he was in the flesh.
The 442 designation was Mr. Berry's ticket to an interesting ride through the war years. He was able to perform a lot of varied activities to help his fellow enlisted men.
As Mr. Berry points out in his memoir, "Of course in this time of segregation, all of our enlisted men were African American and ninety-five per cent of our officers were white. Our company commander was African American but my Special Services Unit officer was a white male from Connecticut."
He did intelligence work like training G.I. ground personal to recognize enemy aircraft and differentiate them from Allied planes. As the non-commissioned officer in charge (a Sergeant), he did public relations work for the Army acting as a liaison to the towns and communities surrounding the various bases he was assigned to.
After Langley, he was stationed briefly at Selfridge Field, outside Detroit. "There was already a painter there, Mr. Berry wrote, "so I let him keep the job." He describes the time and the base in Michigan as "lovely."
"When our unit was transferred from Michigan to an Army Air Base in Walterboro, South Carolina, all the sad and horrible experiences of the world came into my life," Mr. Berry wrote.
In 1944, Walterboro was reassigned to First Air Force and became an advanced combat training base for individual fighters.
Over five hundred of the famed Tuskegee airmen blew through Walterboro Army Airfield, when Mr. Berry was there, from April 1944 to October 1945, and "others from an elite Black Bombers squadron assigned to our base." It also hosted a two hundred and fifty person Prisoner of War camp.
"When I was at Walterboro," Mr. Berry said, "what was originally the African-American Tuskegee 99th Pursuit Squadron came through the base on their way back from overseas for rehab work. We tried to make contact with their families back home. We did contact work for them to help them relocate because they were going to be transferred to different parts of the country.
"Some wanted to leave the Army and some wanted to stay in. We worked with them on their future plans."
Let's be clear just who Mr. Berry was dealing with. This was one of the most successful flying squadrons in American military history
According to the New York Times, 27 May 1997: "The one thousand black pilots of the Tuskegee Airmen flew 1,575 missions and more than 15,000 sorties over northern Africa and Europe during World War II. They destroyed more than 250 enemy aircraft on the ground and 150 in the air and fiercely protected the American bombers they escorted."
"Sixty-six of them were killed in action and 32 were taken prisoner, but they never lost an aircraft they escorted over hostile territory. Despite the racism of the time, white bomber crews began requesting the black pilots as escorts."
However, when they got home attitudes were different, or more precisely, attitudes were still the same.
"The town of Walterboro was an old, segregated, racist town still behaving like it was in a Confederate state," Mr. Berry wrote. "When the elite black fliers came back from overseas, they had forgotten the prejudice of the southern culture."
'When these officers tried to go to town to eat or buy things, they were treated very harshly and insulted," Mr. Berry wrote. "Special Services tried to restrict access to the town due to conflicts between the locals and the black airmen and soldiers."
And to make matters worse, the Prisoners of War held at the base received better treatment.
"German and Italian prisoners of war held at the Walterboro base were treated better than we were," said Col. Hiram Mann, of Titusville, Fla., a Tuskegee pilot, the New York Times reported. "On the weekend the chamber of commerce and fraternal organizations would take the German and Italian prisoners into town to the movies and for recreation in places the black military could not go. That was very unsettling," Col. Mann said.
"They were shocked," Mr. Berry said. "A couple of them wanted to get into their planes and strafe the town."
The last straw came when the black fliers saw that the POWs were allowed to eat on the white side of the dining room.
"We got sent to a base at Walterboro, South Carolina, and we saw German POWs do things on that base that we couldn't do," Lt. Col. Dryden, a Tuskegee pilot, recalled in an article in the Chicago Tribune, March 19, 2007. "I was seething."
'The fliers were so upset after returning from the Italian war zone that they were ready to bomb little Walterboro to bits," Mr. Berry wrote in his memoir.
The Times article reported that "one Tuskegee airman got so frustrated that he flew mock strafing runs over the city with his P-38 fighter and was drummed out of the service." Although it is Mr. Berry's recollection that none of the strafers were ever identified.
"As a result, the tensions grew very nasty there," Mr. Berry said recently at his home. "The Army had to bring in the only African American general of the time, Gen. Benjamin O. Davis. He came in to talk to the officers to try to calm them down. He transferred them to a base in the northern part of the country."
And Gen. Davis had to make a speech on the base to calm the town down. Mr. Berry wrote, "The army pledged to work with the business people in the town and an effort was made to come to some understanding. But remember, this was the south in 1945."
Although Mr. Berry stayed in the states and kept his assignments in country, once he found himself stranded behind enemy lines.
"As a Special Services noncom, I was a sergeant in charge of following up on soldiers when they went home on furlough. I'd leave the base when they got in trouble and see if I could get them back to where they belonged."
He was riding with military police to Columbia, South Carolina, and managed to get a young soldier back to his base. Then the MPs had an emergency call and left him on his own in Columbia. They gave him a bus ticket.
"I got on the bus, transferred at a stop between Orangeburg and Walterboro, and rode until the bus stopped at a diner in the back woods," Mr. Berry said. He ate in the segregated area and then waited outside at the bus stop. It was there he had a run in with the junior varsity of the local Ku Klux Klan. He had parachuted into a war zone.
"I was waiting for the bus and three kids in their early 20s started harassing me. This white farmer came out of the woods with a shotgun and told them to leave me alone. He stood there with me at the bus stop with a shot gun. His son was in the service in the Pacific. 'He's wearing the same uniform you're wearing," he said. "I'll wait with you until the next bus comes along.'" And he did. Mr. Berry was able to get on his bus and make it back to the base in one piece.
Perhaps it is at this point on the lonely ride back through the fields of South Carolina that the title of Mr. Berry's book first occurred to him: "Is This My Country 'tis of Thee, Sweet Land of Diversity?"
So Mr. Berry experienced the war years in a menacing land where hostilities rumbled constantly beneath the surface. In many ways, his Special Services outfit was on the frontlines of history, negotiating the racial divide on the angry streets of Walterboro.
A native New Yorker, Creighton Berry grew up in Manhattan and the South Bronx. His father, Otis, was a postal worker who survived a mustard gas attack while serving in the Army during the First World War.
Mr. Berry attended James Monroe High School and later graduated from Brooklyn's Pratt Institute. His advanced work includes studies at New York's School of Visual Arts. He knew from childhood that he wanted to be an artist. He followed his own bliss long before Joseph Campbell dreamed up the concept.
His first break came when he was hired as an illustrator by a Pratt alumni who was aggressively looking for a Pratt graduate. Color was not an issue. It was the quality of his degree.
In the all-white world of Manhattan advertising, he made a life for himself in the visual arts as an art director and commercial illustrator, working ten to twelve hour days. He worked for many of the major stores in New York.
During Mr. Berry's groundbreaking career in advertising, he served as Executive Art Director of the former Gimbel's (New York) department store for many years. As someone once said of the Tuskegee Airmen, Mr. Berry fought stereotypes, overcame them, and prevailed.
A nationally recognized artist, Mr. Berry's work over the past seventy years includes mixed media collages, watercolor, acrylic, and oil paintings.
A longtime volunteer in the Presbyterian church, today he creates artwork at his studio in Quiogue, New York.
The Westhampton Library would like to thank Jeanette Smith of Westhampton Beach for bringing Mr. Berry to our attention.
And we would like to thank Mr. Berry for his service to his country, his spiritual presence in our community, and his luminous artwork.
Bob Allard